Excessive speed was a contributing factor in a car crash that killed a University of Georgia football player and recruitment staffer just hours after the team celebrated its recent national championship victory, according to local authorities.
In a crash report Tuesday, Athens-Clarke County police said that offensive lineman Devin Willock, 20, was pronounced dead at the scene this weekend after he was ejected from a vehicle driven by 24-year-old Chandler LeCroy, who died at an Athens hospital.
Willock was sitting in the back seat and not wearing a seat belt when the 2021 Ford Expedition carrying four people failed to navigate a curve in a 40 mph zone at 2:45 a.m. Sunday. The vehicle hit the curb, propelling it off the road and into two utility poles — cutting both in half — before then hitting several trees and an apartment building. The car's estimated speed was not listed in the report.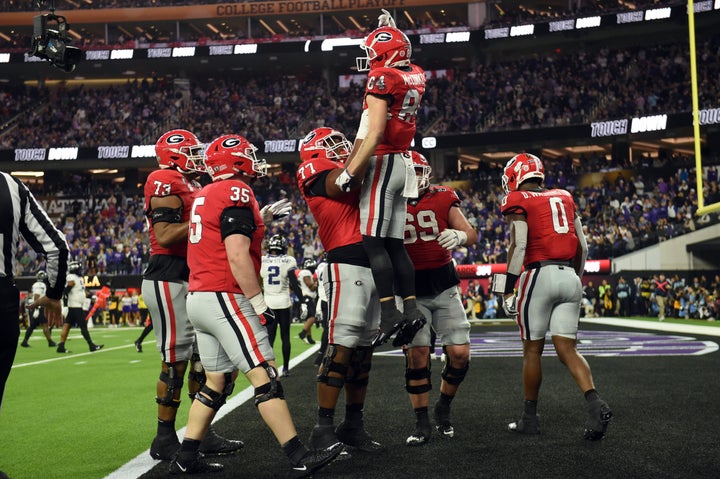 Warren McClendon, a three-year offensive tackle who announced only hours earlier that he was preparing to enter this year's NFL draft, was sitting in the front passenger seat and sustained a cut to the middle of his head, according to police. He was hospitalized for what the report described as minor injuries.
Victoria Bowles, another member of the Georgia football staff, was sitting without a seat belt in the rear right side of the vehicle but was not ejected, police said. She survived, though with serious injuries.
On Saturday, the Georgia Bulldogs football team had celebrated its second straight national title with a parade and ceremony in Athens after beating the TCU Horned Frogs on Jan. 9. Willock, a sophomore who was studying risk management and insurance, played in all 15 games for Georgia this season.
"Devin was an outstanding young man in every way and was always smiling," Georgia coach Kirby Smart said in a statement Sunday. "He was a great teammate and a joy to coach. Chandler was a valuable member of our football staff and brought an incredible attitude and energy every single day. We grieve with their families for this tragic loss and will support them in every way possible."